Prison Trained Greyhounds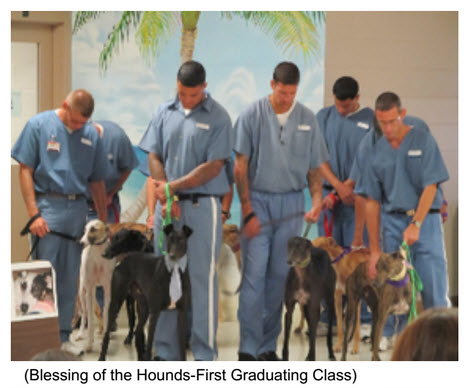 Through Bay Area Greyhound Adoptions and in partnership with Greyhound Advancement Center, (www.greyhoundadvancementcenter.org), we are able to offer for adoption a limited number of prison-trained greyhounds. We partner in this program with Gold Coast Greyhound Adoptions.  Together we sponsor the greyhounds in the training program.  Our greyhounds are trained by specially selected and trained inmates at Hardee Correctional Institution Work Camp (HCI) near Wauchula, Florida.  During each eight-ten week session, with the help and guidance of a certified dog trainer, our greyhounds are trained in basic obedience, with an emphasis on the greyhounds having a level of training to allow them to be certified as therapy dogs.  Some of the greyhounds are also trained to become service dogs.  The inmate trainers at HCI have named the program, HARDEE HERO HOUNDS, and even created their own logo for the program.
Each inmate selected as a trainer receives extensive information on the care and training of greyhounds.  Inmates with special knowledge and training serve as our Vet Techs to assist with any medical issues that may arise.  We also have the services of a very good veterinarian near the prison in case any of the greyhounds become ill or injured. 
During hot weather, the greyhounds are trained in an indoor, air conditioned area.  There is also a fenced outdoor area for exercise and play time. A primary and a secondary trainer are assigned to each greyhound, insuring that the dogs learn to work with more than one person and that their training and care continues even if one of the trainers is released or not available.  The dogs also spend time with other trainers to become accustomed to being with and doing their commands for different people.  The greyhounds stay with their trainers 24 hours a day, and the trainers submit weekly status updates on the greyhounds in their care.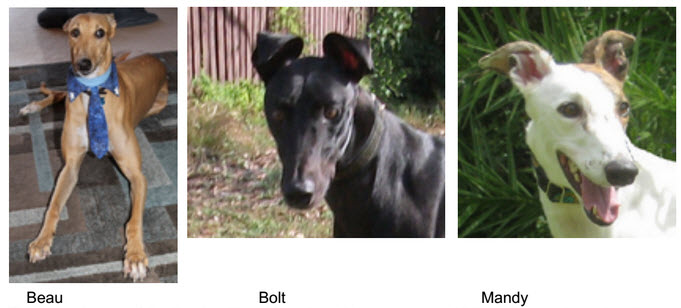 We select the greyhounds for each training session, have all their veterinary work done (spay/neuter, dental, all vaccines, microchip), and deliver them to HCI.  The greyhounds are then taught all of their basic commands: heel, sit, lie down, stay, come on recall, finish, and go to place (their bed or mat).  They are also taught to walk on slick floors, walk up and down stairs, jump up onto a platform (to simulate jumping into an automobile), and not to go out an open door until their trainer signals them to do so.  The trainers become very knowledgeable and often teach their greyhound some fun things in addition to the above commands.  Some greyhounds have learned to play with a soccer ball, catch a tennis ball or Frisbee, find a treat that is hidden, learned to play dead, shake hands (paws), bow, roll over and play dead, and other commands.
Upon graduation from the training program, the greyhound will be able to complete the requirements for the AKC's Canine Good Citizen (CGC) certification.  They will also have learned the skills necessary to become a Certified Therapy Dog.  If you are planning on doing animal assisted therapy with your greyhound, a prison trained greyhound is definitely the way to go.
At graduation after every session, all greyhounds demonstrate their skills, so you know that your greyhound has mastered all of their basic obedience commands.  At graduation, one greyhound is chosen each session as "Top Dog", other greyhounds are chosen as "most improved", and the trainers are each recognized for their achievement in training their greyhounds. With permission from the prison, adopters are invited to see their greyhound graduate.
The mere presence of the greyhounds has made a huge difference at HCI.  The unconditional love the greyhounds give, as well as their calm and gentle demeanor greatly improves the morale at the entire prison, even for the inmates not in the greyhound program, and for the prison staff as well.  The trainers have something positive and important to do with their time, they learn team work and responsibility, as well as learning viable job skills for re-entry when their prison terms are completed. Trainers in the greyhound program can be certified as dog trainers, which will help them to find jobs working with other dogs when they leave the prison. The greyhound program is a huge benefit not only to the prison facility, but to the adopter, who will receive a well-socialized and well-trained greyhound.  It is truly a win-win situation for all involved.
The prison trained greyhounds are listed on our website under "adoptable greyhounds". They are also listed on the Greyhound Advancement Center's website. Our partner in the prison program at HCI is Gold Coast Greyhound Adoptions. Their adoptable greyhound prison dogs will also be shown on the GAC website.  If you see a greyhound for either BAGA or Gold Coast that you like, please let us know.  We work together to find the perfect greyhound for you.  When you have chosen a prison trained greyhound, we will ask you to submit a $50 deposit which will go toward your adoption fee.  This will "hold" your greyhound until graduation day when he or she is available for adoption.
Greyhound prison dogs are much in demand, and are quickly chosen for adoption.  If all the prison trained greyhounds for a particular session have been chosen, please let us know of your interest so you can have a choice of the available greyhounds in the next training session.  

 GRADUATION DAY
Graduation Day is the day that you can take your greyhound home.  It is an important, but bittersweet time for the greyhounds and their trainers.  The trainers have the satisfaction of knowing that their greyhound has gone on to a great life as a pet, but it is difficult for them to give up the dogs that have meant so much to them for the past several weeks.   New greyhounds come in, the trainers have a new dog to love, and the training begins anew.   

HOW YOU CAN HELP
Volunteer to help with promoting Greyhound Advancement Center and the greyhound prison program at various events in the area, obtaining silent auction items, fund raising, and donating items needed for the program.  Used martingale collars and leashes, fabric for collars and leashes, mats and dog beds for the greyhounds, and fleece fabric to make greyhound coats.
Shown below are photos taken at graduations.  You will notice the mortar boards the greyhounds wear when they graduate.  They were made by the inmates, along with special collars they make for each greyhound.  During the winter months, the inmates also make fleece coats for their greyhounds, using fabric donated to the program.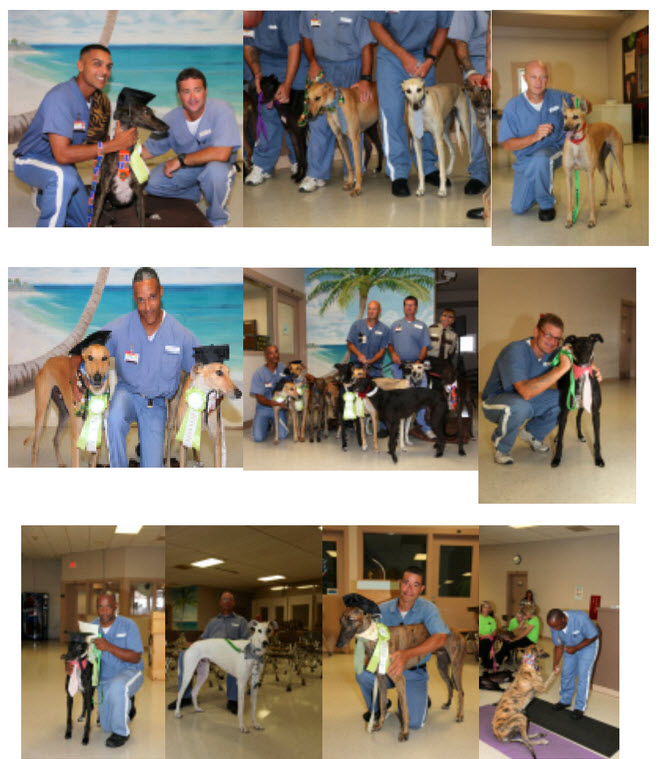 For more information about prison trained greyhounds, please go to: