In Loving Memory
_______________________________________________________________________________________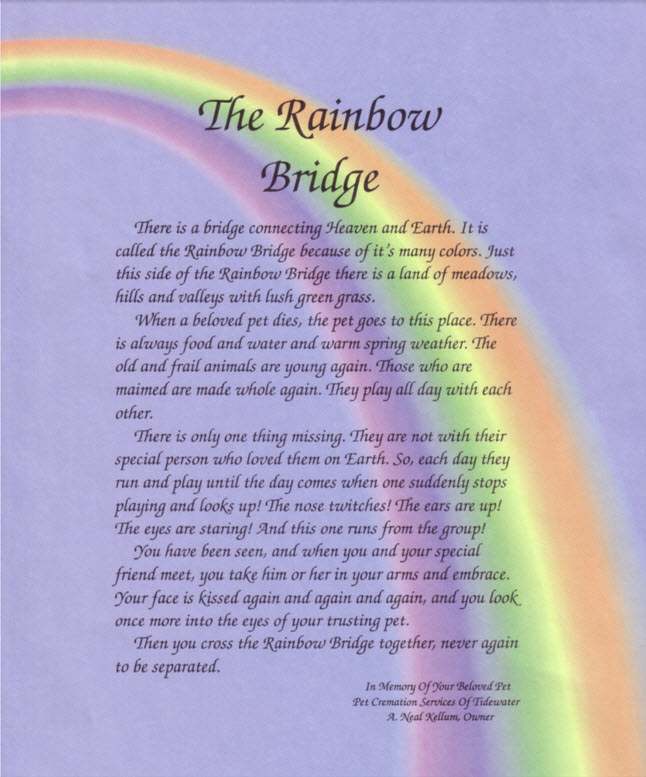 Please send us your remembrances of your beloved greyhound(s) who have crossed the Rainbow Bridge and are waiting for you.  We would be honored to display your memorial. 
Please send your memorial (100 words or less in MS Word please)  including pet name, racing name, date of birth and date of death with a digital photo  to:  BAGA@tampabay.rr.com.
Cowboy II (Wyoming Cowboy) 10/08/03 – 9/23/17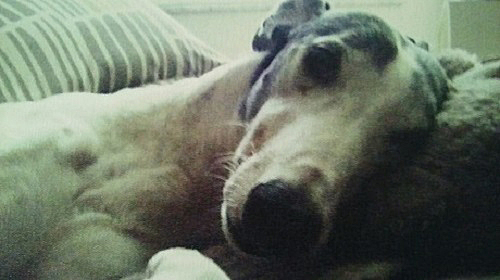 When I heard Cowboy was up for adoption, I was thrilled. His mother Daisy and sister Shari were already members of our household, he completed our greyhound threesome.
Except for one spot on the nose, Cowboy looked just like his mother, and the black spot on his side looked like a little saddle.
He also inherited his mother's easy going personality; there was never a dog or person he didn't like.
For years we made monthly visits to a nursing home, he always looked forward to his outings and the residents loved him.
We have horse property and he loved running around with amazing speed, at times people would pull up to the fence and watch.
No matter how long the time, it's never enough, he will be truly missed.
WE WILL ALWAYS LOVE YOU
Zellie (La Deda Patootie) 12/13/02 – 08/26/17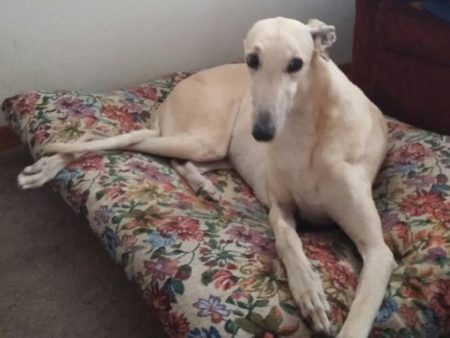 We met Zellie at a Meet and Greet at Oldsmar Flea Market. We immediately knew this returned pet should come home with us to join our pack. She came home and became the boss of the pack. The other dogs accepted her and became one happy family. Zellie lived a long life (almost 15). She was able to be the oldest dog at the Senior Picnic two years running. We are happy to know she is now at The Rainbow Bridge playing with all her sisters who went before her. We will always love you, Zellie.
    Eric, Amy, Pam & Chance
Ozzie (CRT Ozzie) 11/15/09 – 07/31/17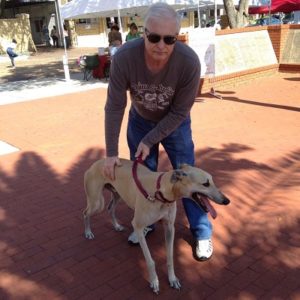 Lyn and Dan Casseday mourn the untimely loss of Ozzie the greyhound, pictured on the day they met him at a Bay Area Greyhound Meet and Greet five years ago.  He was a terrific therapy dog with children and adults, and a wonderful pet.  Ozzie was the Cassedays' first greyhound and was joined by JJ the greyhound a year later.  The Cassedays love their greyhounds and miss Ozzie, who crossed the rainbow bridge on July 31.
Jewel (Sol Jewel ) 03/20/2003 – 04/20/2017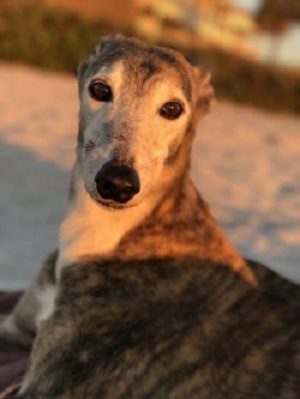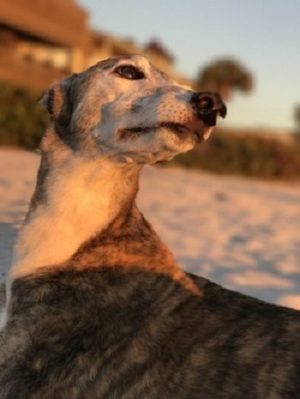 Jewel was such an amazing dog.  She came to us after a stint in prison learning all about life away from the track and how to sit and lay down! She quickly forgot those tricks when she moved in with us and instead taught us to fetch her snacks.
She loved car rides and would often just sit in the car on a cool day refusing to get out after forcing us to take her out for a drive.
She totally had us wrapped around her paws and knew it!
She would "go to work" each morning with my sister (who works from home) and was her favorite co-worker even though all she ever did was hang out by the water cooler, take bathroom breaks and violate company HR policies by insisting my sister pet her during conference calls.
She ate her body weight in pancakes, killed a few possums, loved the beach, went on epic road trips (never a squirrel to her dismay), always slept in the middle of the bed and was the love of our lives.
Her last day was spent with ice cream and friends who wanted to stop in and say a final hello and goodbye.
She lived a month past her 14th birthday and now rests in our garden so she is still close by. A Jewel-shaped ornament hangs above her final resting place.  It's a quiet peaceful spot-just like liked in life.  We will never forget her.
Renee
Zeus (Espresso) 01/01/2009 – 02/27/2017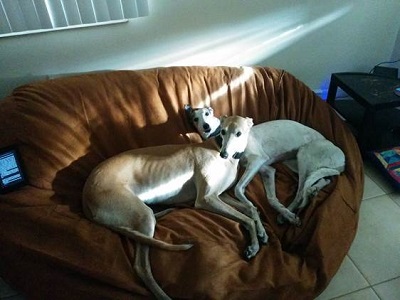 He was a quirky guy, with a lot of character!  I remember when I came to see him at the Saturday (11/17/2012) meet and greet, he was just standing away from the other dogs staring at the wall, pleased as punch.  That really set the tone for how things would be.  He lived life on his own terms.  He was calm and laid back, loved to nap, and played well with Melody (who he can keep company on the rainbow bridge now) and most recent greyhound addition to the family, Latte.
Thank you for the opportunity to have adopted such an amazing guy, I hope that we made his life just as wonderful as he made ours.  
Thank you, Jason
Cari (Kay Cari Dillard) 12/18/02 – 12/3/2016
Cari came into our lives in May of 2006. She was a delight from the very start, up until the end.  She was the most affectionate dog and everyone loved her.  All the grandchildren, neighbors and friends were just as happy to see her as she was to see them.
She was always excited to see everyone.  She brought so much pleasure in our lives and she will surely be missed.  I'll never forget the day she picked me!  
RIP Sweet Cari
Andy and Linda DeGagne
Dave (Atascocita Dave) 12/24/2005 – 8/2016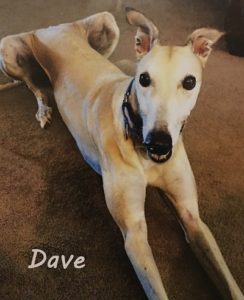 A great guy and a good friend.
Bill & Tommy
Sienna (Showtime Siena) 12/13/2009 – 10/2/2016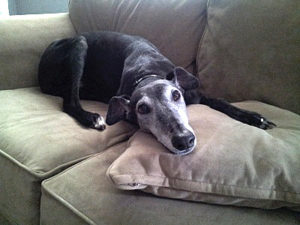 Sienna will always be our very special puppy, even though we only had two and a half years with her. She was our first pet together and the first addition to our family. She had so much personality. She loved meeting people and would bounce with excitement. She loved trips, too, and she'd bounce when she saw her leash – or anything that looked like a leash. She loved to run backyard zoomies. And more than anything, she loved cuddles. Well, treats and cuddles. We will miss her so much but, wherever she is, we hope she's happy, excited, and bouncing.
Thank you for giving us the opportunity to know Sienna
Sandy  (Dajavu Sandy) – May 2005-September 2016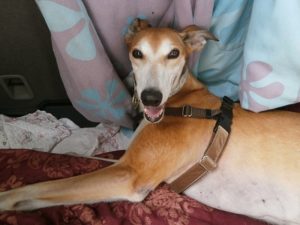 Sandy came to me in August 2014 as a nine year old that was returned to BAGA. I agreed to foster her but soon realized she was a perfect match for me and adopted her. I knew our time together could be short but I cherish every day of our two years we had. She was deeply loved, not just by me but by many others. I gave her the best life I could. Sandy was truly beautiful, sweet, happy, loving, and fun to be around and I just can't say enough about the joys of adopting a senior! I miss her so much and she will forever be in my heart.  
Bride (Lovely Bride) 2/19/2005-8/2016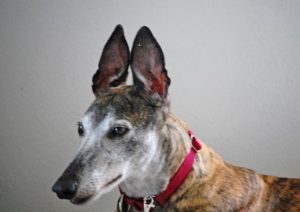 I adopted Bride in September 2012, and from the moment I got her, she made my life so much more fun, humorous, and blessed!!! She was very vocal and loved to "talk" to me, especially when I returned home from work, the store, or just the post office. Even now that she is gone, I still expect to hear her letting me know how upset she was that I had left her at home, even for just an hour. I lost her to cancer, and there has been a tremendous void in my life. Bride was my first dog that I had on my own, and I was extremely blessed to have found such a special, loving girl!!!! I know she is at peace and pain-free now and enjoying chasing all kinds of fuzzy creatures. 🙂 I will always miss her and keep her in my heart.
Nice Meelia (Amelia Earhart) 5/22/03-6/22/16)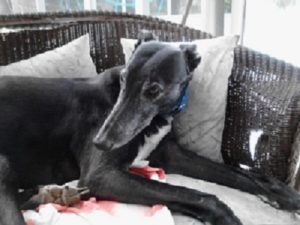 Nice Meelia (Amelia Earhart) 5/22/03-6/22/16)
Our beautiful black, tuxedo greyhound brought us ten years of joy and smiles!
Born May 22, 2003

Adopted from Bay Area Greyhound Adoptions, November 2006

Crossed the Rainbow Bridge on June 22, 2016 

…with the loving help of Dr. Larry Jernigan
We will miss you so very much, dearest Amelia!
Love, 
Cherie, MrMatt, Kate, Forrest, and little Ranger
Gage (B R's Rolling Gage) 1/25/07 – 02/07/16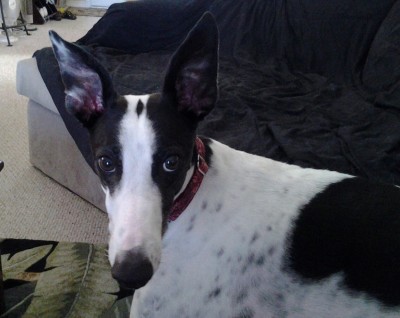 August 14th 2009 I went to a Meet n Greet with my 2 greyhounds. Late into the meet, my dogs wanted to go out. About half way to a grassy area, I hear laughing and someone calling my name, romping toward us was this lanky, goofy boy pulling his foster mom behind him. I stopped, watching in delight as he insisted he come with us. My "family" grew by one that day. Gage maintained that silly, goofy personality all his life. He made everyone he met laugh and fall in love with his silly sweetness. I miss you my googoohead.
 Kiley (Smiling Althea) 12/07/05 – 1/24/16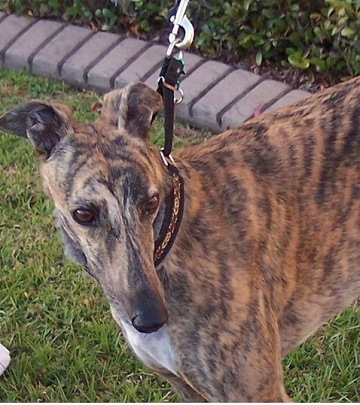 Crossed the bridge about a month ago at the age of 10 years. She was on the track for 5 years and we had her in our life for 5 years. Run free sweet girl!
Maui (Maui Wowi) 11/06/03- 11/04/15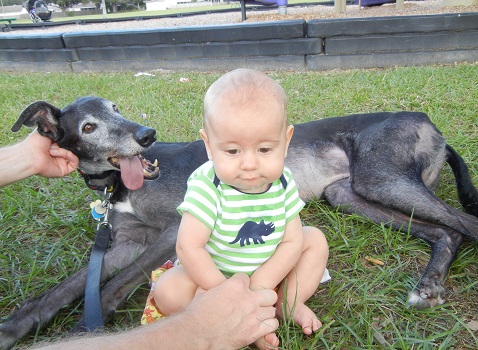 A true gentle giant, Maui taught compassion and kindness for animals throughout his adventures over the years. From groups of overzealous, curious young children "Can we ride on him?" or temper tantruming toddlers and airborne toys, he handled it all with grace and ease. He was there from the start with all three of our children and made a perfect family dog. One of my favorite memories of Maui is when Linda & Kathy brought him over for the first time. All four of my cats were strategically perched throughout the living room ready to strike as necessary. Maui looked to the left, looked to the right, saw he was totally out numbered. He sank down to the floor and went to sleep! That describes him to a "T". We miss him every day and no one could ever take his place.
Sugar Smak (5/18/03 – 8/26/15)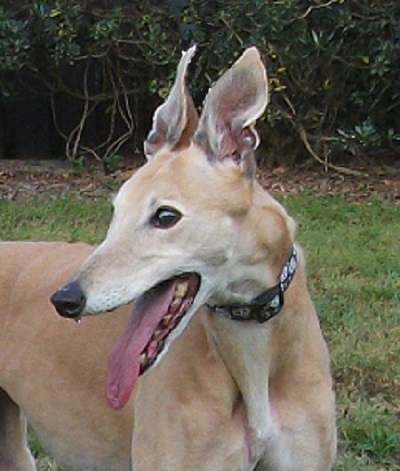 Sugar Smak was one of the sweetest greyhounds ever.  She was tiny by greyhound standards at only 50.5 lbs. She was one of the first BAGA greyhounds to become a "prison trained" greyhound, was adopted and had many years as a family pet.  When she was 12 years  old, she was returned to BAGA  because her adopters got divorced and could no longer keep her.   While she was with us during the last several months of her life, she was cherished and loved immensely, especially by her foster mom, Summer DiGrazia.   Sugar will always be remembered and always be loved by all of us at BAGA.
Casino Carlee 10/15/01 – 07/23/15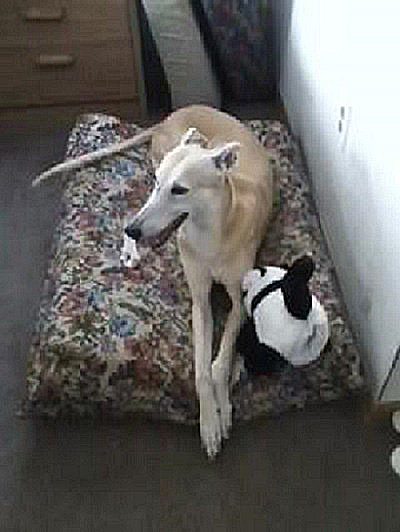 Carlee came to us as a "foster-to-adopt" on 9/24/05 and stayed for almost 10 years. She became the old lady of the house, having seen many other greys pass before her. In her youth, we called her "donkey dog" because she was so full of life and energy she would bump into people, other dogs, etc in her enthusiasm to get somewhere. As she aged, her donkeyness became less & less, she lost her hearing, some of her sight, but still would try to run around the backyard with her younger sisters. Carlee was the third oldest greyhound at the Salute to Seniors picnic in 2014. Life just became too difficult for her and we had to help her to Rainbow's Bridge where she is running around with all of her greyhound sisters who were waiting there for her. We miss you Carlee and we will always love you.
Mom (Amy), Dad (Eric) and sisters Zellie (12) and Pam (6)
Kissy (10/1/2005 – 7/8/2015)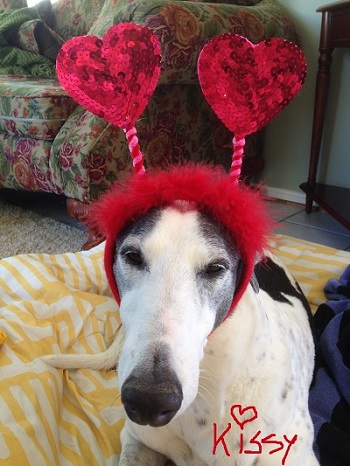 Kissy was a "sweetheart". Even one of her black markings resembled a heart, so a heart became her symbol on her collars and coats. We even signed her name with a heart dotting the i. She also loved to wear hand bands! She had one for all occasions and she loved to show off, especially for the grand kids.
We got Kissy at a year old and she was a skinny little girl. But she loved to run and we played football-fetch every day for 8 years. She grew strong and pretty. Then 1 1/2 years ago she was diagnosed with cancer and given only weeks to live. But it didn't come and we were give another whole year. Kissy got to do everything one more time! We made every day special. Kissy, the "sweetheart", filled out hearts with love.
We love you Kissy.
Honeymoon (10/25/2006 – 7/22/2015)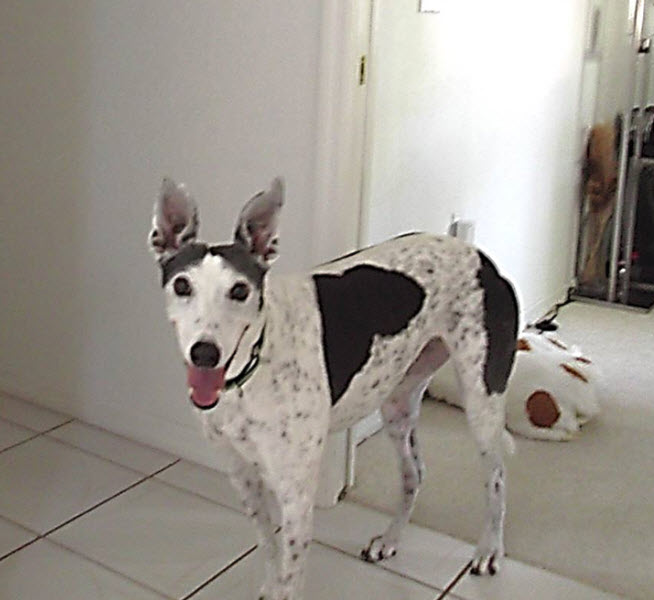 She was mischievous; she was energetic; she was fun; she was pretty. She loved people; she didn't love thunderstorms, she loved sunshine; she loved play. She was taken from us too soon; we loved her. She is and will be missed….
Carl and Elaine
Lilu (5/1/05 – 5/27/15)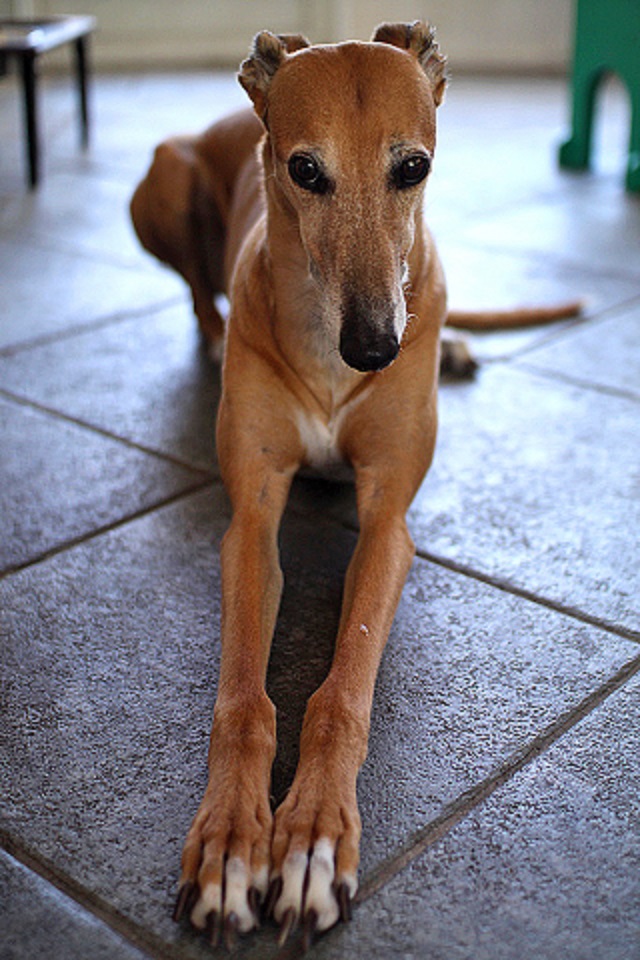 Lilu was sweet, calm, patient, and gentle – with adults, children, and dogs alike. She let Kiwi (our Miniature Pinscher) lead the way (and be the boss). She was a therapy dog, and she was loved by so many people. She loved to be petted all over, but especially on her belly. The only time she ever barked was when you stopped petting her (she would also use her paw or a good stare to remind you to keep going). She was kind, and she was also silly – her personality truly bloomed throughout her life. Lilu lived over a year after she was diagnosed with thyroid cancer. She had a happy and spirited 10th year of life, with lots of car rides, visiting with family, belly rubs, and rolling around in the grass. We will forever miss our sweet, goofy, lazy Lu. Melissa, Erik, and Kiwi
Gracie (06/16/03 – 5/20/2015)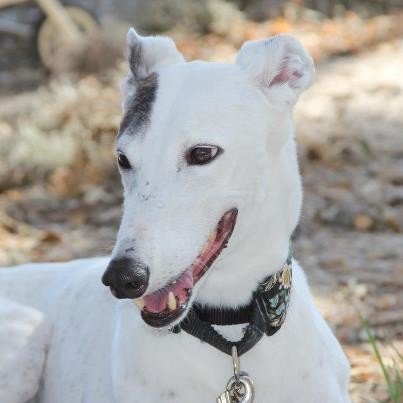 This is our sweet Gracie girl, who went to the Rainbow Bridge on May 20, 2015. She would have been 12 years on June 16th. We are grateful to have known her for 10 wonderful years. When she was younger, I would take her to an area Assisted Living facility where I'd tell residents that we named her Gracie because she was as beautiful as Grace Kelly and as goofy as Gracie Allen. I cannot imagine a better companion pet than a Greyhound. Linda and Kathy, thank you both for all the work that you do to promote this regal breed.
Katy (3/1/06 –  5/25/15)
Katy came to us on 12/21/13, an early holiday present. She was a beautiful blue fawn with golden eyes. And those eyes knew how to look at you so you would give her anything she wanted. Katy would run laps around the back yard with her older sister grey, Zellie. She loved chasing the squirrels & birds. Katy would roo when she wanted to go out or just for fun when she was happy. Katy loved sitting in her Dad's chair, especially if she knew he was getting ready to sit there. Katy went to the Rainbow Bridge quite suddenly and much too soon. But, we know she is running laps with all of her sister greys who went before her. She may not have ever raced, but she sure did race right into our hearts. We miss you, Katy, and we will always love you. Mom (Amy), Dad (Eric) and sister greys (Carlee & Zellie)
Nala (Oh Fly Girl) 2/28/2003 – 4/2/ 2015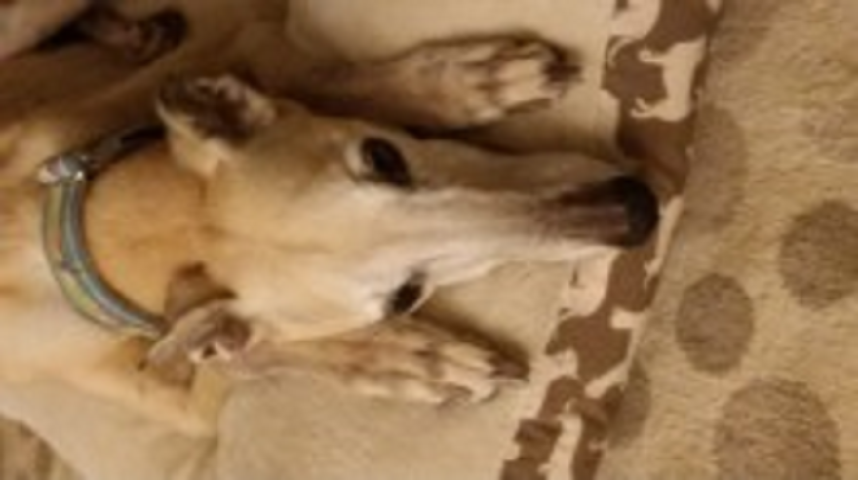 Sweet Nala, racing name "Oh Fly Girl" was adopted from Bay Area Greyhound Adoption in 2005 when she was 2 years old.  She had just gotten off of the race track and was looking for a forever home.  When I met Nala at a meet and greet, she came up trotting and almost looking as if she was smiling.  When I met her she greeted me a wet kiss on the cheek which instantly bonded us!  I worked with Nala and brought her everywhere with me and she learned to be a social butterfly.  She loved attention and affection and spread joy to whoever met her.  Nala stayed by my side through some of the most difficult times in my life and truly was my best friend for the 10 years I was blessed to have her as my pet.  The unconditional love this greyhound gave will never be forgotten.  Nala is now in a better place and I know she was welcomed by many angels to enjoy her eternal life.  She will be forever missed by her mom (Abby), dad (Joe), and yellow lab sister Gia. 
Joey (Nintendo Joe) 7/20/2004 – 11/2/2014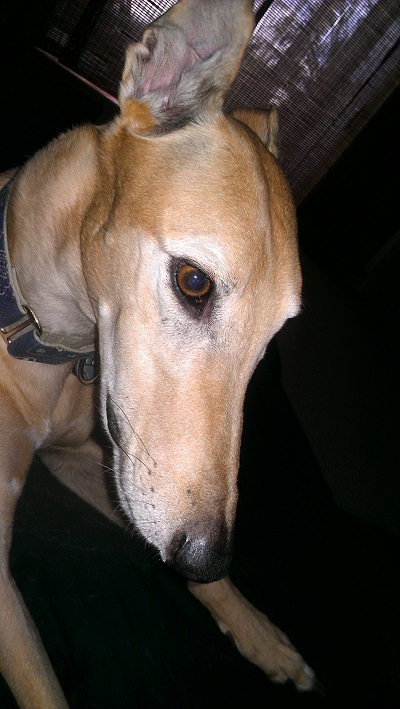 The day I met you at a meet n greet that January Sunday; I had no intention of adopting another greyhound.  I held you as your foster mom went into the store.  My sweet Riona would not leave your side. You moved, she moved with you. Kismet!  Riona wanted you…I could not refuse her. You brought the silly playful side out in her.  You brought kindness, strength, calm and new friends into my life.  Still miss you every day.  Kiss Riona for me.
Daryl 12/24/2005 – February 2015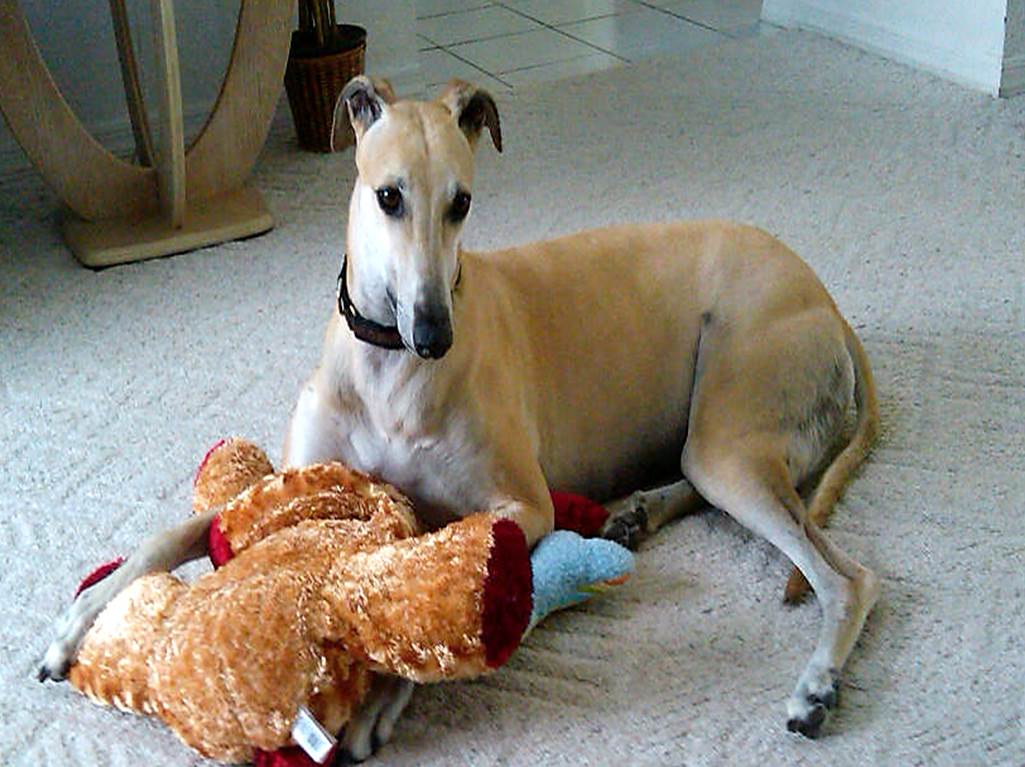 When Daryl showed up in our lives a few years ago, we had some serious concerns about whether or not an older special needs greyhound would work out, but Daryl quickly put those worries to rest. He fell into a comfortable routine and fit right into the family.   He was always funny and entertaining when he played and ran around with Honeymoon, our other greyhound. One time, they cornered and caught a rabbit in the dog run and Daryl was so proud he brought it up to the door with his tail wagging as if to say "Look!!! I finally caught that damn bunny I've been chasing for so many years!" Love, Carl, Elaine & Honeymoon
Bella 6/2004 – 4/20/2014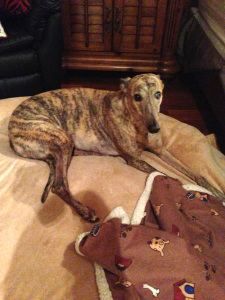 We lost our gentle girl Bella to cancer in April.  She was our pride and joy for nearly ten years.   She taught us patience & she wanted for nothing & was happy with everything given to her.   She loved her cookies and would drool with joy.  She "Bella Danced" with happiness whenever we came home and was soft as velvet to caress.  She was sweet & yet at the same time a clown and she was loved by everyone she met.  We miss her everyday and loved her more than words can describe.  She loved her car rides to the beach and her little sister Patches.  She fully recovered and survived eight months after a stroke that had initially left her paralyzed on one side.  Stoic and grateful, she never gave up throughout her recovery.  She taught us that too.  What a wonderful gift she was.  Our hearts are broken, but we have our wonderful memories of her until we meet again. Sylvia and Angelo Scebba
Riona 11/7/2003 – 7/25/2014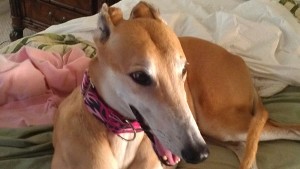 My beauty You came into my home so timid and confused. You taught me to be quiet and patient. I watched as you grew into a confident Princess. I am honored that you trusted me. I miss your regal presence every day.
Quizi (Onceco Inquizitiv) 5/1/2000 – 7/18/2014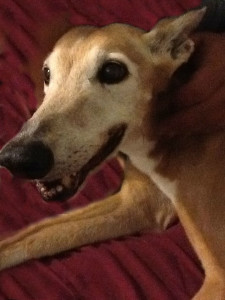 Our beloved Quizi was feisty, bossy, smart, independent, and stunningly beautiful. The first day we saw her and looked into those huge brown eyes, Quizi opened our hearts and then dove right in. The loss we feel cannot be expressed. We miss you so much, Quizi!   With love, MrMatt, Cherie, & Amelia (your grey-sister) Sebring, Florida
Pixie (Atascocita Raven) 3/24/2002 – 6/27/2014
  Lynda Lyman and Kathy Jeske introduced us to the wonderful world of greyhounds ten years ago.  We can never thank them enough for that and for the wonderful dog we had with us for ten years.  Friday, June 27th was a very sad day for us. We said goodbye to our beautiful greyhound Pixie; with us for over ten years. We lost her to cancer. She was born on March 24, 2002, had the racing name Atascocita Raven, and passed over the Rainbow Bridge on June 27, 2014.  She was a wonderful dog. They tell us that greyhounds pick you, and she truly did. At an adoption event, she came up to Tim and buried her head into him. When I knelt down, she pushed her head into my shoulder. It was love at first sight for us both! She was sweet, funny, loving, and just plain crazy. We loved her deeply and will miss her terribly. My supervisor gave me a plaque on my birthday that says "Heaven is the place where all the dogs you've ever loved come to greet you". I believe she will be there.  Tim & Terry Mead Lutz, FL
Jest 6/15/08 – 6/13/14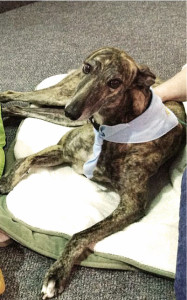 Jest, you came into our lives when we were in desperate need of spiritual & emotional salvation. You enabled us to find our way with your gentle disposition, those ever-expressive eyes and that frequent little nudge to let us know that you were always there by our side. You brought smiles to everyone who met you. It just isn't fair that such beauty and grace can be taken away in such a short time. You were only six. We will miss you forever. We can only pray that someday we will meet again. ……..Rest well my dear…….. Deb & Dan
Jade (Somewhat Jaded)  9/17/2000-5/3/2014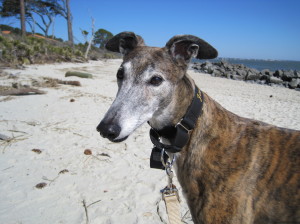 Words cannot describe how much Jade was loved.  My heart broke as I had to say goodbye to my sweet beautiful perfect girl. We shared lots of adventures over the years -many car rides, walks, costume contests, nursing home visits, trips to Sandy Paws and Friday pizza nights with her greyhound and people friends. I will treasure the years I got to spend with her and be comforted by the many wonderful memories. Jade,  you will be deeply missed by all who loved you and will always hold a special place in my heart.
_______________________________________________________________________________________