How You Can Help The Greyhounds

There are many ways you can help BAGA and the greyhounds.  We appreciate anything you are able to do.  Listed below are a few suggestions:
FOSTER A GREYHOUND:  This is one of our main needs.  Since we foster all of our greyhounds to help them transition from track life to home life, we are limited in the number of greyhounds we can take in by the number of foster homes we have available at any one time.  When you foster, you will be doing an invaluable service for the greyhounds, and you will have the satisfaction of knowing that you have helped a greyhound on its way toward a great life as a pet.  For more information, please check out our "Foster a Greyhound" page on this website.
ADOPT A GREYHOUND (OR TWO):  By adopting a greyhound rather than purchasing a pet from a pet store, you have helped immensely.  Ask us for some business cards for when you take your greyhound for walks or to the local park-you will be asked many questions about your greyhound. Tell your friends, neighbors, and family what wonderful pets greyhounds make.  Actually, just take your greyhound along for a visit and they will know how nice greyhounds are without you having to say a word!
BECOME A BAGA VOLUNTEER:  At BAGA, we have so many important things to do to help the greyhounds that there are always a variety of things that we can use your help with. You will enjoy the work and meet new friends.  For more information on volunteering, please see our "Volunteer Opportunities" page.
DONATE SUPPLIES FOR THE GREYHOUNDS: We are always in need of good quality dry dog food, comforters, baby gates, fold-up type  crates  (at least 30" high), dog biscuits, dog treats, office supplies, postage stamps, etc. 
DONATE SILENT AUCTION AND RAFFLE ITEMS: We raise funds to help the greyhounds by holding silent auctions and raffles at our semi-annual picnics and other events.  These items do not have to be greyhound related, just something that people will bid on, such as electronics, gift cards for local retailers and restaurants, gift baskets, memorabilia, etc.
DONATE ITEMS WE CAN SELL ON E-BAY:  BAGA has an E-Bay account and we can sell just about anything.  Ditto on the items listed under Silent Auction Items.
DONATE MONEY:  This can be cash, checks, loose change, Pay Pal, etc.  We very much appreciate all donations.  No amount is too small.  It is easy to donate using our Pay Pal link on the home page of this website.
GARAGE SALES:  Hold a garage sale and donate the proceeds to BAGA to help the greyhounds.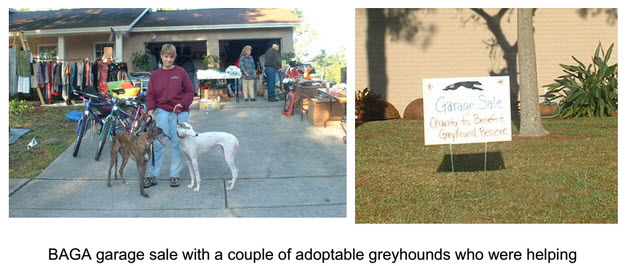 ORGANIZE A FUND RAISING EVENT ON BEHALF OF THE GREYHOUNDS:  This can be almost anything—bake sales, car washes, walk-a-thons, birthday parties, raffles, yappy hours, whatever you can think of to raise money.
SOLICIT DONATIONS FROM LOCAL BUSINESSES FOR FUND RAISING EVENTS: This can be anything that can be used to generate funds.  Gift cards to local retailers and restaurants are ideal.  There are many possibilities here.
HOLD A GREYHOUND THEMED BIRTHDAY PARTY AND ASK THE GUESTS TO BRING A "GIFT" FOR THE GREYHOUNDS IN FOSTER CARE:  This is something that will not only help us with supplies, but it will spread the word about greyhound adoption.  If you are planning a greyhound birthday party and do not have a greyhound of your own yet, contact us about bringing one of ours to meet your guests.
ATTEND BAGA EVENTS AND HELP SPREAD THE WORD:  We hold many BAGA events throughout the year, including meet-and-greets, Yappy Hours, picnics, parades, festivals—just about any  place we can show the greyhounds to prospective adopters, and we need your help.
PURCHASE YOUR GREYHOUND-RELATED ITEMS FROM BAGA:  We sell coats, collars, BAGA T-shirts, calendars, and other items. 
HELP WITH TRANSPORTATION:  We pick up greyhounds from their racing kennels and transport them to the vets and foster and adoption homes.  The tracks can be relatively close or further away.  We often transport greyhounds between our group in the Tampa area and our chapter in the Fort Myers/Naples area.
HELP SEARCH FOR A LOST GREYHOUND: No matter how cautious we are, sometimes a greyhound will get out.  This is very dangerous since the greyhounds do not know about traffic and are so fast that they can be miles from home and lost within a few hours.  Time is of the essence and the more volunteers who can assist in the search the greater chance of getting the greyhound back to its home safely.
HELP WRAP CHRISTMAS GIFTS:  Each December our volunteers wrap gifts at a local book store.  This is an excellent fund raiser for us and we use the proceeds for our special needs greyhounds and those with racing injuries that require surgery.
DONATE YOUR PROFESSIONAL SERVICES: If you are an accountant, veterinarian, artist, printer, photographer, media consultant,  etc., we can use your expertise. 
COORDINATE AN EVENT AT A NEW LOCATION:  This can be a meet-and-greet, Yappy Hour, fund raiser, just about anything where we can spread the word about greyhounds as pets.
PARTICIPATE IN OUR COMMUNITY OUTREACH EFFORTS:  This involves going to community gatherings, clubs, schools, etc. and providing information about greyhounds as pets. 
Besides the suggestions listed above, there are many other ways you can help.  We are happy to hear your ideas. Please let us know what you have in mind.  Your help is important to us and is very much appreciated.  Also—the greyhounds thank you!