How To Adopt A Greyhound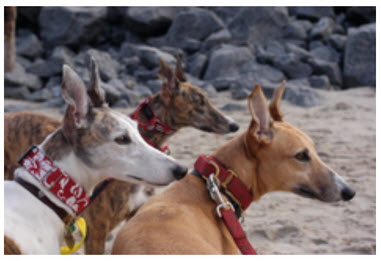 The adoption process is easy!  You will need to fill out and submit an adoption application on line. 
 If you live above the ground floor in a building without an elevator, call (813) 272-2332 about our policy regarding stairs. Some dogs and situations may require a fenced yard.
If you have children, please the Children and greyhounds page; http://bayareagreyhounds.org/children-and-greyhounds/.
APPLICATION REVIEW
Our adoption protocol requires that your pets be spayed or neutered, current on all required and recommended vaccines, and have proof that they are and have been on heartworm prevention medication. (In Florida, dogs must be on heartworm prevention year round.)  We will verify this information through your veterinarian. Please call and authorize your veterinarian to provide this information to us. If you are purchasing heartworm medication through another source (on-line), you will be required to provide proof of these purchases.  If you are obtaining vaccines for your pets through a service other than your regular vet, we will also need proof of these payments.  If you are renting, we will need to have permission from your landlord for you to have a dog the size of a greyhound (normally 55-80 lbs.).  If you have a home owners' association, we will need to have permission from your HOA for you to have a greyhound. 
HOME ADVISORY
After your application has been reviewed, we will set up an appointment to meet with you and your family in your home.  This meeting is to provide you with information about caring for your greyhound and answer any questions you may have.  If you have already chosen a greyhound you would like to adopt, we will make every effort to bring that greyhound to your home to insure that all other family pets are compatible with the greyhound, and to make sure that the greyhound seems comfortable in your home.  During the home advisory, we will help you determine if a greyhound is right for you and your lifestyle.  If all goes well, you may adopt your greyhound immediately thereafter so long as the greyhound you have chosen is ready for adoption. All family members should attend the home advisory.  You can expect the home advisory to last from 1-1 ½ hours or as long as you need for us to answer all of your questions.
TIMELINE: WHEN CAN I GET MY GREYHOUND?
Your adoption application can be approved and your home advisory set up within one week, depending on your schedule.  If you have chosen a greyhound that is ready for adoption, your adoption can be done immediately after your home advisory.  If you have chosen a greyhound that needs more time in a foster home, we will let you know that information when you submit your application. The prison trained greyhounds are available every 8 – 10 weeks.  The graduation date for each greyhound is listed on their Petfinder profile. 
ADOPTION COSTS
The adoption fee we request depends on the age and level of training of the greyhound you choose.  The adoption fee for each available greyhound is shown on the profile of each greyhound on our Petfinder.com listing.  Your adoption fee only covers a portion of our cost of veterinary expenses and care of your greyhound while in foster care.  The remainder of our cost is paid for by donations from the public, racing kennel owners, supporters, charitable grants, and the fund raising efforts of our volunteers.
For your adoption fee, you will receive:
Spay/neuter of your greyhound

 current on all vaccines, rabies vaccine, and Bordetella, which protects against kennel cough. 

Testing for heartworms and internal parasites and treatment if necessary

Dental examination and cleaning with scaling and polishing

Greyhound bathed, ears cleaned, and nails trimmed

Greyhound microchipped and chip registered in your name

Bay Area Greyhound Adoptions identification tag

Martingale collar and matching leash of your choice (This is a safe type of collar for a greyhound)

Adoption packet containing your greyhound's photo, pedigree, racing record, medical records, and other important information.
ADOPTION DAY
Prior to bringing your greyhound home, you will need to have a few supplies on hand:
Two quart food and water bowls.  We recommend stainless steel.
High feeder, approximately 15-16" high, available at most pet stores. Many come with stainless steel bowls.  A plant stand of the same height also works well.
Dog bed or old comforter.  If you have stairs in your home, you may want to have a dog bed for upstairs and one for downstairs. (Your greyhound will follow you around.)
A bag of good quality dry dog food.  Avoid dog food where the first ingredient is corn.  Many greyhounds do well on grain-freed food. Your greyhound's foster parents will be able to advise you as to the type of dog food your greyhound is currently eating.  Most greyhounds will require from 3 ½ – 5 cups per day.
Dog Treats:  We recommend the Milk Bone type crunchy treats. "Greenies" are excellent for cleaning your dog's teeth as they chew. (Stay away from pig ears, cow hoofs, and any dog treats not made in the United States.)
ID tag for your greyhound with your phone numbers.  These are available for a nominal price at most pet stores.  




After you bring your greyhound home, you will also need to purchase your county rabies tag, either from your vet or from Animal Services.
You will NOT need to purchase a collar or leash.  We provide a greyhound-safe martingale collar and leash of your choice when you complete your adoption paperwork.  You may wish to purchase a greyhound coat for cold weather and/or a "cool" coat for hot summer days.  We have these items available for sale.
You will NOT need to purchase a crate.  We will loan you a crate for a maximum of 30 days to help your greyhound transition from the foster home to your home. We only ask that you provide us with a check for $100 as a deposit for the crate. Your deposit will be returned when you return the crate to BAGA.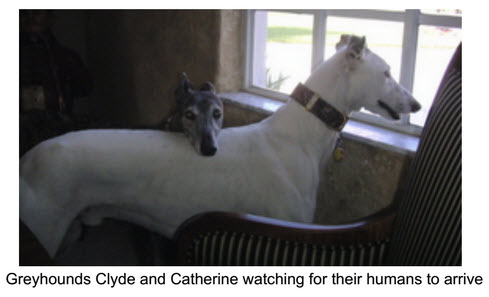 Complete the adoption application online.
Thank you for giving a deserving greyhound a home!