Foster A Greyhound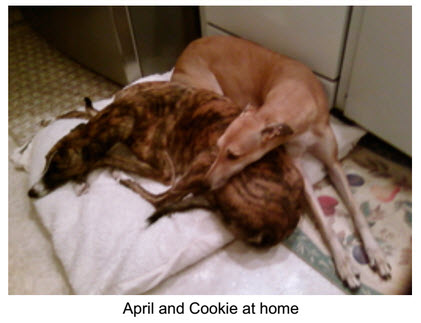 If you decide to foster, you will be providing a very valuable service which will enable many deserving greyhounds to find loving homes. There is nothing more important to our work than families willing to provide a temporary home for a greyhound awaiting adoption.
 If you live above the ground floor in a building without an elevator, call (813) 272-2332  regarding stairs.
 IMPORTANT INFORMATION ABOUT FOSTERING
There is no financial cost to you.  We provide a crate, dog food and all medical care for your foster greyhound.  What you provide is your time, patience, and love to help your foster dog acclimate to a new home environment in the following ways:
Housetrain your foster greyhound.  Generally, this is not a difficult process since your foster greyhound is already crate trained.
Help your foster greyhound to learn to walk quietly by your side on a leash. Most greyhounds are already pretty good at this.
Help your foster greyhound learn about things that they will encounter in a home environment.  This can include tile or hardwood floors, sliding glass doors, mirrors, stairs, and swimming pools.
Help your foster greyhound learn to live harmoniously with other family pets.
Help your foster greyhound to transition from track food to regular dog food.
Help your foster greyhound to learn to play with toys, learn not to hop on the furniture, and not to beg at the table.
As a foster parent, it would be helpful if you could bring your foster greyhound to meet-and-greets or make your foster dog available for other volunteers to bring to these events.  (These are the events where we show potential adopters the greyhounds available for adoptions.)
Many foster parents end up adopting their foster greyhounds, so we always need new foster homes.  If you have love to give and truly want to help the greyhounds, please ask us about fostering. Just call us and we will give you all the information you need to be a successful foster parent. 
For Citrus, Hernando, Pasco, Pinellas, Hillsborough, Polk, Manatee, and Sarasota Counties, please call:  813/272-2332.
For Charlotte, Lee, and Collier Counties, please call: 239/985-9035.
Complete the Foster Application online.
We hope you will consider fostering a greyhound.  It is truly a rewarding experience.