Activities with your greyhound
Greyhounds are gentle and docile, get along great with other dogs, and are quite social and loving with people. They also enjoy being with us wherever we go.  For many reasons, greyhounds are an ideal breed to take with you when you go places.  There are many activities you can enjoy with your greyhound.  Here are some suggestions:
ANIMAL ASSISTED THERAPY
A therapy dog is a dog trained to provide affection and comfort to people in hospitals, retirement homes, nursing homes, mental institutions, schools, and stressful situations such as disaster areas.   With their loving and gentle temperaments, greyhounds are ideal for this much-needed work.  Our prison-trained greyhounds are specifically trained to have all the skills necessary for therapy work.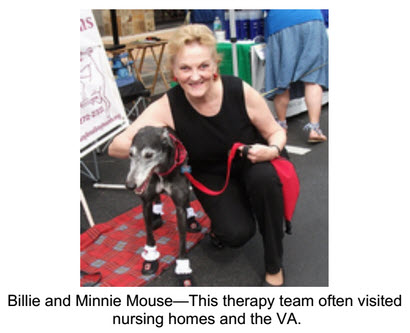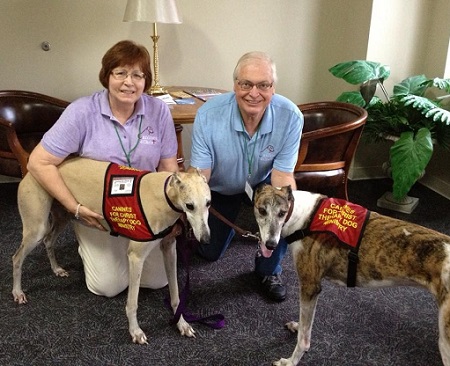 Ozzie and JJ-Canines for Christ 
We are also affiliated with Paws for Friendship, which is a non-profit organization in our area that will be able to certify your greyhound as a therapy dog.  Through Paws, you will meet other volunteers and be able to participate in regular therapy visits.  A relatively new area where you can help is to take your greyhounds for the school reading programs. Here a child can be assisted with reading skill by being with and reading to your dog (instead of the much more stressful, reading in front of their school class). There are also Paws yappy hours where volunteers get together with their pets on a regular basis. The possibilities of what you and your greyhound as a therapy team can do are endless!  Animal assisted therapy is one of the most important ways you and your greyhound can give back to your community, and you will enjoy it as well.  For more information, please contact Jan at Paws for Friendship at www.pawsforfriendshipinc.org.

ATTENDING "MEET AND GREETS"
Our volunteers at BAGA attend many functions we refer to as "Meet and Greets". These are the times that we show our adoptable greyhounds to the public and provide information on greyhounds as pets.  Chances are good that if you have adopted a greyhound or are interested in adopting,  you first met our volunteers at one of these events.  The more volunteers we have that will bring their greyhounds to the meet and greets, the more we can accomplish.  Many people have never thought about adopting a greyhound until they meet our greyhounds at a meet and greet and realize what gentle and wonderful pets they are.  As you might imagine, one of the things that is most important when choosing a pet for adoption is to meet and speak with an owner who has already adopted, and hear what they have to say about their pets.  We do meet and greets each month at various locations throughout the Florida West Coast from Crystal River in the North to Naples in the South.  This includes many festivals, especially during the Fall, Winter, and Spring months. Please check out our monthly Events List for specific locations and dates, or give us a call. Shown below is a photo of one of our Meet and Greets. This is the St. Petersburg Morning Market.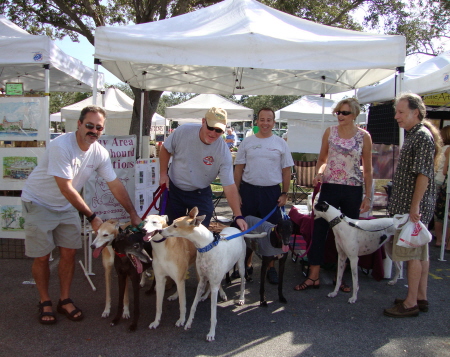 OBEDIENCE AND CANINE GOOD CITIZEN PROGRAM
Greyhounds are eager to please and intelligent.  They do well with positive reinforcement and quickly learn their basic commands (sit, lie down, heel, come, stay, wait.  All of our prison-trained greyhounds learn these commands plus a few more prior to graduation, and are eligible for certification with their new handlers (adopters).  The Canine Good Citizen (CGC) program was established in 1989 by the American Kennel Club to encourage responsible dog ownership and to encourage the training of well-mannered dogs.  A dog and handler team goes through a short evaluation to earn the CGC certification. 
TRAVELING WITH YOUR GREYHOUND
Because they are used to traveling from track to track in their prior careers as racing dogs, greyhounds are one of the best breeds for traveling.  They love to be with you and enjoy going new places.  Once they learn to hop up into your automobile, they are content to rest comfortably until they reach their destination.  Many of our volunteers travel with their greyhounds.  One of the nicest places in Florida to take your greyhounds is St. Augustine, which is a very pet friendly locale.  We have taken our greyhounds all over the area, including on a cruise around the harbor, to the Castillo de San Marcos, and all along St. Georges Street.  The merchants there actually set out bowls of water for the dogs, and most restaurants have pet friendly outdoor dining areas.  Other great places to take your greyhounds are various local, state, and national parks.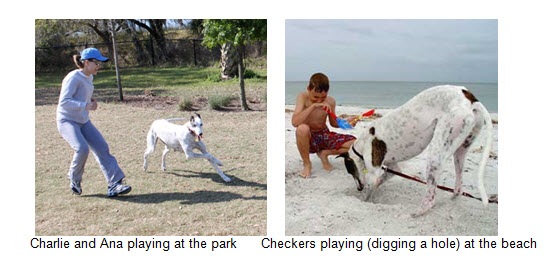 GREYHOUND GATHERINGS
What breed of dog has their own regional gatherings? Greyhounds, of course!  Greyhound lovers get together at various places each year to celebrate their greyhounds and their love for this noble breed. It is awe inspiring to see so many greyhounds at one time who are beloved family companions.  It all started in Dewey Beach, Deleware where a few greyhound owning families decided to get together over a weekend.  Over the next several years, it grew and grew to become known as "Greyhounds Reach the Beach".  At one time, there were as many as 3,000 greyhounds in attendance!  It was the largest gathering of a single breed of dog in the world.  
 Taking the lead of the Dewey Beach gathering, other greyhound events were formed.  Now, Greyhounds Reach the Beach is much smaller, but still a great destination for greyhound lovers in the Northeast to gather each year in October.   Several other gatherings are now well attended each year in various areas.  In the East, there is one in Myrtle Beach, SC; one in Gatlinburg, TN; one in Gettysburg, PA, and a Greyhound Wine Tour in upstate New York. 
The greyhound gathering closest to Florida, and the one that BAGA participates in is "Sandy Paws".  It is held in March of each year at Jekkyl Island, Georgia.  Over a three-day weekend, greyhound lovers from across the Southeast enjoy walking on the beach, social gatherings (with greyhounds or course), greyhound merchandise sales, seminars, blessing of the hounds, greyhound games and costume contests, an Ice Cream Social, the crowning of the "King" and "Queen", and awarding of the Greyhound Guardian Angel.  This is an award presented each year to a special person who has greatly contributed to the welfare of the greyhounds.  We are honored that some of our BAGA volunteers have been recognized as Greyhound Guardian Angels.  Sandy Paws is the creation and labor or love of "Greyhound Guardians" a group of volunteers in Jacksonville, Florida who work all year to plan this event.  Best of all, the proceeds of the event all go to adoption groups to help more greyhounds.  For more information on attending Sandy Paws, please go to: www.sandypaws.org.
The photos below show some of our trips to Sandy Paws.  The photo below left is of Barbara with greyhounds Tommy and Cinnamon. We visited the Jekyll Island Club, which is a beautiful hotel built in the 1880's.  Tommy and Cinnamon are shown on the right at the hotel.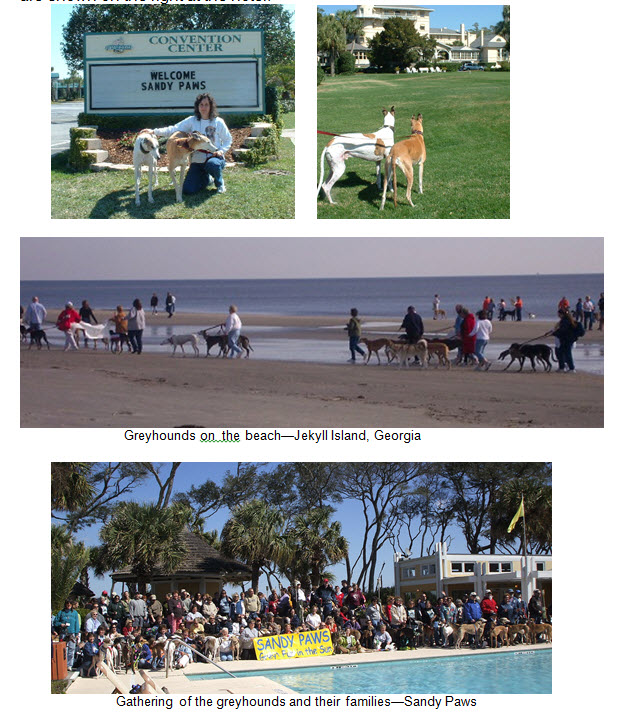 LURE COURSING
In lure coursing, dogs known as "sight hounds" chase an artificial lure across a field, following a pre-determined pattern.  Sight hounds such as greyhounds normally do not need to be trained for lure coursing since the desire to chase a moving object is instinctual. (In our experience, some greyhounds are eager to chase the lure and have great fun doing so. Others have no interest, pay no attention, and wonder what the excitement is all about).  Dogs must be at least one year old to compete in lure coursing. If you are planning on trying your  greyhound at lure coursing, caution must be taken to wrap your dog's front legs with "vet wrap" to insure that their dew claws do not become entangled in the cord that pulls the lure.
The American Sighthound Field Association (ASFA) certifies and holds lure coursing events.  In Florida, these events are held in the Winter months.  The competitors are judged on agility, endurance, enthusiasm, and follow (pursuit of the lure).  At lure coursing events, dogs compete by breed (Whippets competing with Whippets; Irish Wolfhounds with Irish Wolfhounds, Greyhounds with Greyhounds, etc.). The winner is Best of Breed.  The top dogs from each breed may compete to determine the Best in Field, which is the best dog in the trial. Some of the hound breeds besides greyhounds that you will see at a lure coursing event are Afghan Hounds, Basenjis, Borzois, Deerhounds, Pharoh Hounds, Ibizan Hounds, Irish Wolfhounds, Rhodesian Ridgebacks, Salukis, and Whippets. A special "slip" collar is used to set the hounds free to course.  You can find much more information on lure coursing, as well as where lure coursing meets are being held, at www.asfa.org.   Below is a photo of greyhounds lure coursing. Notice that their front legs are wrapped so as not to entangle the cord pulling the lure with their dew claws.

AGILITY
More active greyhounds will enjoy the fast paced sport of agility.  This is a great way for greyhounds and their adopters to bond, get some exercise, and have some fun.  Agility consists of a series of obstacles set on a prescribed course that the dog must negotiate.  There are many dog training schools and associations that teach agility.  You will need to have the time to regularly work with your dog on each obstacle, than begin combining the obstacles, and finally move on to doing the entire course.  Most dogs love agility.  It is like a doggie playground to them.  If your greyhound is a more high-energy type that is always busy doing something, agility may be great activity for your hound.  Below are some photos of greyhounds in agility competition.  Since you train your hound to do the obstacles with treats, food motivated hounds will excel at this sport.

PET COSTUME CONTESTS
With their gentle natures and calm temperaments, greyhounds are up for anything, including being dressed in funny costumes! Many of these photos were taken at a nice event in Wesley Chapel every October "Dogtoberfest". Here are some of our greyhounds "all dressed up":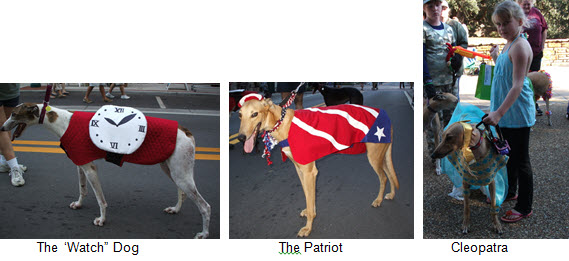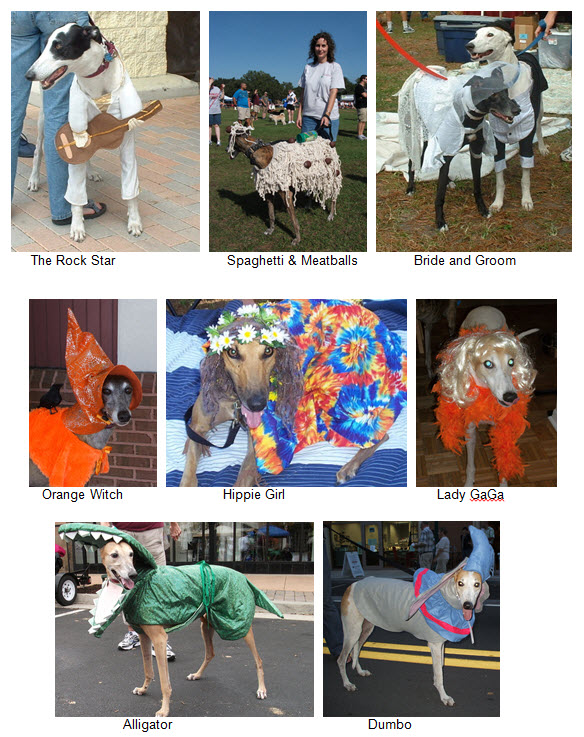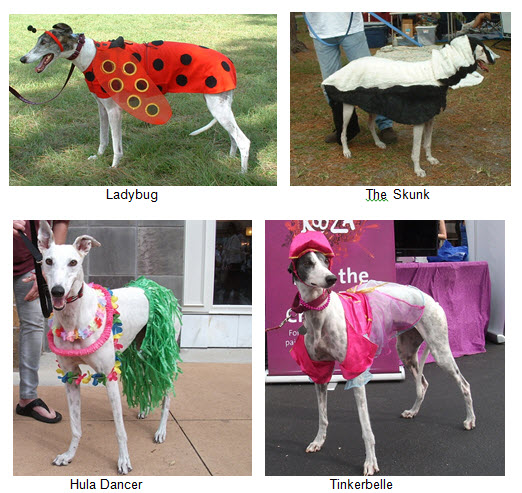 "YAPPY" HOURS
Since greyhounds are calm and social, they are an ideal breed to take to social gatherings where a group of people get together with their dogs to have dinner in an outdoor dining restaurant.  Many restaurants have these dining areas and will accommodate patrons and their dogs.  We often have fund raising Yappy Hours where the restaurant agrees to provide a portion of the evening's receipts to BAGA.  We also sometimes have raffles at the yappy hours as an additional fund raiser.  How good can it get—an evening enjoying the company of friends and our greyhounds–and making money to take care of our adoptable greyhounds as well!   Please check our Events List for dates and times for various Yappy Hours. 
This is a photo of Joia's Fabulous Pizza in Riverview—a great Yappy Hour destination.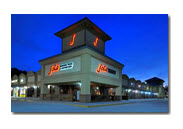 Two more of our favorites . . .

There are many more activities that you can do with your greyhound. 
Actually, pretty much anything you can think of to do or any place you want to go, your greyhound will be happy to accompany you.  Besides being the world's fastest "couch potato", they are also the world's best companions!