About Us
Bay Area Greyhound Adoptions, Inc.
13014 N Dale Mabry Hwy, #180
Tampa, FL 33618-2808
Tampa 813-272-2332
Ft Myers/Naples 239-985-9035
BAGA@tampabay.rr.com
We do not have a kennel. All of our dogs are in foster homes learning how to live in a house.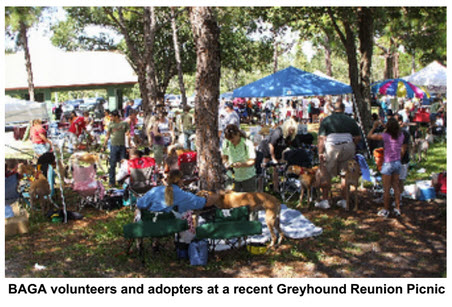 OUR MISSION . . .
Bay Area Greyhound Adoptions is a non-profit, charitable organization, incorporated in the State of Florida.  Our mission is to find loving homes for greyhounds as pets after their racing days are over.  We are staffed entirely by volunteers who are dedicated to helping the greyhounds. We are not animal activists and do not become involved in political issues regarding the gaming industry.  Our purpose is to promote greyhounds as pets and to find loving homes for the greyhounds in our care.  We are recognized by the Internal Revenue Service as a 501(c) (3) charity and any donations provided to us are fully tax deductible to the extent allowed by law.
Our name derives from our location, the Tampa Bay Area.  We began in 2004 as a small group of friends who had adopted greyhounds and wanted to help more of these gentle and loving creatures. Since our incorporation at the end of July 2004, with the help of our many volunteers, we have expanded our service area, and now provide greyhound adoptions to the Florida West Coast, including the following counties:  Citrus, Hernando, Pasco, Hillsborough, Polk, Manatee, Hardee, Sarasota, Desoto, Hendry, Charlotte, Lee, and Collier.  This is basically from Crystal River in the North to Naples in the South.  We feel very blessed to have a wonderful group of volunteers and supporters that enable us to continue our work and provide adoption services in these areas.
WHERE OUR GREYHOUNDS COME FROM . . .
The great majority of our greyhounds come directly from the greyhound racing kennels. We have found that most greyhound kennel owners treat their dogs well and try hard to find good homes for the ones that are no longer fast enough for the track, those who have no interest in racing, and those greyhounds that have reached retirement age.  We recognize this effort and are working with the trainers and greyhound owners to find pet homes for as many retired racers as possible.
Once we are contacted by one of these kennel owners or trainers that they have greyhounds they would like to place as pets, we pick up the greyhounds, have their veterinary work done (spay/neuter, teeth cleaning, update vaccines, worming, microchip implantation, and take care of any other medical issues).  We then foster the greyhounds in our homes until they are adopted.  This allows us to become familiar with each dog's personality and temperament, and to help the greyhound adjust to life in a home environment.  Not only does fostering help the greyhound, but for our volunteers it is a most rewarding experience.  It is fair to say that with each of our foster greyhounds that are adopted, a little piece of our hearts go with them.  We do their adoptions with joy and love because we know that we have helped to find our foster greyhound a happy home, and that we can go on to help another greyhound that needs us.
The photo below shows BAGA volunteers Leslie and Dave picking up greyhounds from a local greyhound farm.  The center photo is Carrie (greyhound) with Andy on the occasion of her adoption.  On the right is Will and greyhound Reese at his adoption.

THE WORK WE DO . . .
Our volunteers show the greyhounds to the public at our numerous "meet and greets" throughout the area.  We process adoption applications, conduct home advisories, and act as counselors to families after they bring their adopted greyhound home.  We transport the greyhounds from the racing kennel to our vets and to the foster homes, we bathe and groom them and have all their vet work done prior to their adoption.    Through our association with Greyhound Advancement Center, we participate in the "Hardee Hero Hounds" greyhound prison training program at Hardee Correctional Institution.
We organize picnics, volunteer appreciation days, yappy hours, our annual "Salute to Seniors", fundraisers, participate in parades and organize other fun events for greyhounds and their humans.  We speak at schools, clubs, and with the media about greyhounds as pets, participate in pet fairs, festivals, and parades.  We do pet therapy work with our greyhounds at local hospitals, schools, and assisted living facilities.  We maintain a website and a Facebook page. 
When necessary, we take in greyhounds with broken legs or other significant racing injuries, finance their surgeries, and keep them in our care until they are healed and ready for adoption.  We provide a monthly E-newsletter to our volunteers, supporters, and adopters; maintain a database of adopted greyhounds; and are constantly updating our website with photos and information on newly-adoptable greyhounds.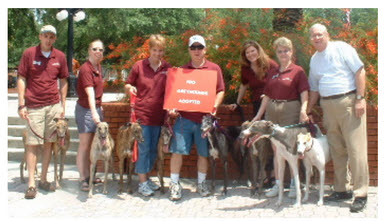 The photo above shows some of our volunteers celebrating our first 100 greyhound adoptions.  Since that time, we have found homes for over 900 more!  With 13 operating greyhound race tracks in Florida, there is never a shortage of greyhounds in need of pet homes.
Here are some photos of our volunteers and greyhounds. The photo below left shows some BAGA volunteers showing the greyhounds at a local Starbucks. On the right we are at the Crystal River Manatee Festival (with the mascot Manatee).

Shown below are some of additional places we show our greyhounds for adoption.  On the left is a meet-and-greet we did at Dillard's Department Store.  On the right, we are at the Wiregrass Arts and Crafts Festival.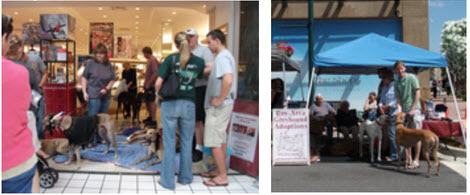 SUPPORT FOR OUR COMMUNITY—Animal Assisted Therapy:  We support and promote animal assisted therapy with greyhounds.  Shown below are some of our greyhounds volunteering in animal assisted therapy at a local nursing home.  We do therapy work in association with Paws for Friendship.  Because of their gentle and calm demeanor and their love for people, greyhounds are one of the best breeds for animal assisted therapy.  The greyhounds shown in this photo are Rusty on the left and BeBe on the right, both certified therapy dogs. BAGA volunteers are Martin, Kelley, and Ashley.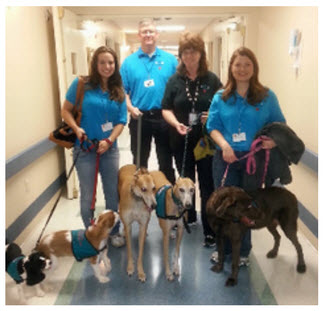 COMMUNITY OUTREACH
One of our missions is to spread the word about how nice greyhounds are as pets.  We promote greyhounds at various events in our community, including schools.
The photos below show our BAGA volunteers with greyhounds at a school "Teach-In" day.  On the left we are showing elementary students the kennel truck and how we transport the greyhounds.  On the right is a photo at another school with the greyhounds, BAGA volunteers, and students.

BAGA'S MISSION TO HELP INJURED GREYHOUNDS: One of our missions is to help as many greyhounds as possible that have career-ending racing injuries or that are injured in some way as puppies before their racing careers even begin.  Much of our fundraising efforts go to help provide the funds for surgeries for these dogs. We are fortunate to have wonderful supporters who help with the funding, and a fantastic veterinary surgeon, Dr.Callum Hay, who has done such great work for our greyhounds over the years.
Shown below on the left is Linda (one of our founders) with two greyhounds that have had their broken legs surgically repaired.  On the right is Bandit, who had a serious fracture while racing. Dr. Hay was able to surgically repair his leg.  He is shown here playing with his greyhound friend, Wavy. As you can see, Bandit recovered beautifully.  He went on to have a great life as a pet.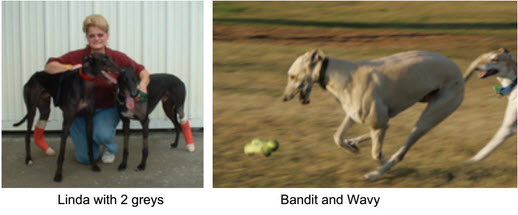 OUR CREDENTIALS . . .
Since 2004, Bay Area Greyhound Adoptions has been recognized by the Internal Revenue Service as a 501(c)(3) charitable organization.  Any donations to help our cause are tax deductible to the full extent allowed by law.  We are incorporated in the State of Florida as a non-profit corporation. BAGA is governed by a Board of Trustees that consists of volunteers who work every day to help the greyhounds.
We are approved for charitable donations and registered with the Florida Department of Agriculture and Consumer Services, Registration No. CH39177.   (A copy of the official registration and financial information may be obtained from the Division of Consumer Services by calling toll-free (800-435-7352) within the State.  Registration does not imply endorsement, approval, or recommendation by the State.)
WE NEED YOUR HELP . . .  
 We are an all-volunteer organization.  Everything we do, and every bit of the money we raise goes to help the greyhounds.  We find homes for over 120 greyhounds per year, as well as transport greyhounds for adoption to other adoption groups in non-racing states. We help many greyhounds that have injuries and take in senior greyhounds that need us. We educate the public about greyhounds as pets, and do all that we can to promote new homes for the greyhounds retiring from racing. If you would like to become a part of this important work, we would LOVE to have you join us.   It is only through our volunteers and supporters that our work can continue.
Both Volunteer and Foster Home applications are on this website.  Please contact us on our phone line 813/272-2332 for the Tampa Bay Area; or 239/985-9035 for the Fort Myers/Bonita Springs/Naples area.  Volunteers are vitally important to us, as are Foster Homes.  We appreciate you all.
We help many greyhounds each year and are always in need of funds to continue our work.  Your tax deductible contribution for any amount would be very much appreciated.  If you would like to help our cause, please send your donation via Pay Pal, which is found on the home page of our website, or send a check made payable to:
 Bay Area Greyhound Adoptions, Inc.
13014 N Dale Mabry Hwy, #180
Tampa, FL 33618-2808
On behalf of all of us at Bay Area Greyhound Adoptions, and all the greyhounds we are able to help each year, we thank you!