A Day In The Life of A Racing Greyhound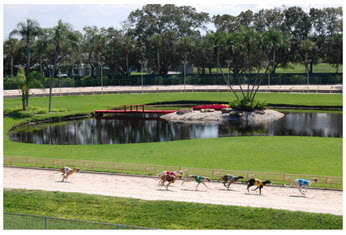 You may have wondered what your greyhound's life was like while he or she was a professional athlete.  Catherine D'Arcy, a greyhound kennel owner and trainer, has provided the following . . . . .
6:30 am—-Rise and shine.  I get to wake up to all of my caretakers letting us out.  I go outside in a group of 15 boys, and we hang out outside for about 30 minutes.  We sniff, smell and take care of nature's call.  We have 3 different pens that we get to go into . . .  and more sniffing and smelling take place.  At 7 am  I come back inside.
7:00 am – 8:00 am—-My caretakers are cooking rice and pasta in the kitchen.  This will go in our dinner once it's cooled.  My caretakers start cleaning all of our kennels.  Some dogs get to leave the kennel and go exercising.
8:00 am—-I get to go back outside with my group of 15 friends while my caretakers clean my kennel, check my shredded paper bed, change my water, and sweep up my bed area.  I spend 30 minutes outside, relaxing and sniffing—and going through each of the 3 different pens.  At 8:30 am, I come back in.
8:45 am—-I get weighed and my weight is recorded in a kennel log.  My caretakers groom me, check my feet, check my nails and my ears, and then brush me with a grooming glove.  I get back into my kennel and nap till dinner time.
9:00 – 10:00 am—-Dinner time!  I get a ½ lb. meat ball with some vitamins and vanilla Ensure on top. Yum!  Because I got a ½ "snack" that means I am racing today!!!
10:00 am—-I go back outside with my group of 15 buddies and we take care of nature's call, do a little sniffing, watch some of the other kennels' staff and just  lounge around for 30 minutes, getting to go into each of the 3 pens attached to our kennel.  At 10:30 am I go back inside to the kennel.  When we come back inside, my caretakers sweep, mop, and clean the kennel so it's all clean and comfortable.
11:00 am – 11:30 am—-I hear leads clinking!!!!!  Woohoo, I am going racing!!!!  My caretakers put a lead on me, and I go walking with 2 of my buddies.  We walk from the kennel to the racetrack . . . we pass the grassy area with trees, and we sniff and take care of nature's call . . . and if we are really lucky,  we will see a squirrel!!!  We love watching the squirrels run up the trees!  We walk to the paddock area of the track, and get weighed.  I have to be within 1.5 lbs. of my set weight or I won't be allowed to race.  I am 84.5 lbs.  The clerk of the scale records my weight and my caretaker brings me to the racing kennels.  A track employee takes me and puts me into a kennel, where I will stay until it's time to race.
1:30 pm—-Track employees called "leadouts" come and get me!  They put my leash on, and we go and walk outside in the warm up area.  A lady in a lab coat follows me as I take care of Nature's call, and my sample goes into a plastic container and a label gets put on it.  The track vet is there watching us walk, and making sure that we are all okay.  Then we get to go to the Paddock area, where the Paddock Supervisor will check my weight and then put on my racing blanket.  The Paddock Judge comes and checks my ear tattoo to make sure I am the correct dog, and then he checks that my racing blanket fits correctly.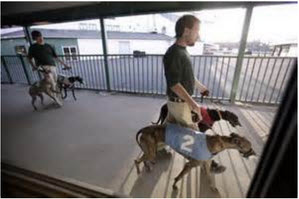 2:00 pm—-I walk onto the racetrack wearing the green blanket of post #4.  I am pulling at the leash, and the lead-out walks me onto the track for the post parade.  We walk in front of the spectators, and I catch a glimpse of the tote board. . I am 5/1 to win my race.  The leadouts walk us to the starting boxes, and we wait for about 5 minutes.  I get loaded into the starting box, and I can hear the lure coming towards the start . . . the boxes open and I am in 3rd place.  I close ground on the greyhounds racing in front of me, and when I turn into the home stretch, I accelerate and leave the field behind me!  I won! I won! I won!  I am so excited.  The lure stops at the pick-up area, and we all stand there wagging our tails, so excited! The lead-out puts my leash back on, and I walk off the track to my caretaker.

2:15 pm—-My caretaker brings me to the cool down area, and I get my feet cleaned and cooled off, and then I get to walk through the cool-down tank . . . It's a cool water tank that we can walk through to cool down on a hot day.  I walk back to the kennel with my caretaker, and when we get there they clean my face, feet, and wash my eyes.  I go back into my kennel and drink some water.  I nap for an hour or two.  When I am all cooled down, I get my dinner!!!  Meat, kibble, rice, pasta, and some vitamin supplements.  Yum!  Then about 4:00 pm, I go back outside for a few minutes to take care of nature's call.  I come back inside and get a couple of Milk Bone cookies!!  Yeah!!
5:30 pm—-My caretakers come and let me out with my 15 buddies.  We spend about 30 minutes outside.
7:30 pm—-The night races start, and my caretakers are in the kennel taking care of the other racers.
8:30 pm – 10:00 pm—-My caretakers come and let me outside with my 15 buddies.  We are outside for about 30-45 minutes.  We get to go through the 3 different pens, and sniff, smell, lounge, and hang out.
11:00 pm—-My caretakers wash dishes, sweep, mop, and tidy up the kennel.  They leave about 11:30 pm and the radio is left on for us with some easy-listening music.  We sleep and dream.  I have water if I am thirsty, and a nice bed of shredded paper.  I dream of winning races!
6:30 am—-Rise and Shine!