Welcome
We do not have a kennel. All of our dogs are in foster homes learning how to live in a house.
Greyhounds are one of the best natured of all breeds. They are sweet, calm, gentle, quiet, and loving with children and adults.
Bay Area Greyhound Adoptions, Inc. is a non-profit, charitable corporation founded for the purpose of finding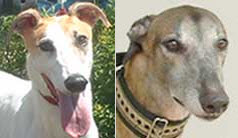 adoptive homes for greyhounds who fail to qualify or who no longer qualify for racing.  If your family is ready for a new canine member and welcomes the enjoyment and responsibility a greyhound may be right for you.  Greyhounds make loving and wonderful pets. Greyhounds require no extraordinary care and adapt to family life easily. 
Greyhounds have easy interaction with people, children, other dogs, and many times even cats.  Greyhounds have no doggie odor and are easy to maintain and shed very little.  People of all ages find greyhounds to be gentle and tolerant and make sensitive companions. 
Greyhounds have been known to comfort their owners when they are sick and they love to greet you at the door wagging their tail when you arrive home each day.   Greyhounds expect little and are grateful for every ounce of love and attention you give them.   
Just download the Walk for Dog app on your smartphone and choose
Bay Area Greyhound Adoption, Inc. as your local shelter!
.